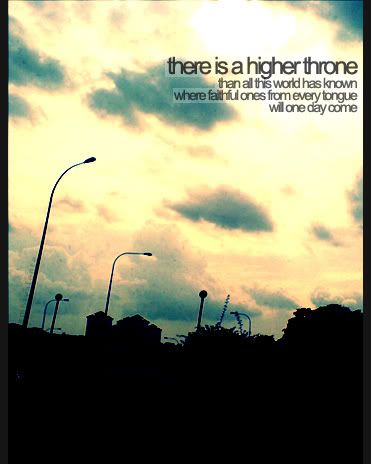 BORDERLESS WORLD
Saturday, February 11, 2006
NOTE: kung hindi niyo pa 'to na basa, basahin nyo 'to... ganda ng mensahe...... ito yung winning speech ni patricia evangelista.....

Borderless World

By Patricia Evangelista
WHEN I was little, I wanted

what many Filipino children all over the country wanted. I wanted to be blond, blue-eyed and
white.

I thought – if I just wished hard enough and was good enough, I'd wake up on Christmas morning with snow outside my window and freckles across my nose!

More than four centuries under western domination can do that to you. I have 16 cousins. In a couple of years, there will just be five of us left in the Philippines, the rest will have gone abroad in search of "greener pastures." It's not an anomaly; it's a trend; the Filipino diaspora. Today, about eight million Filipinos are scattered around the world.

There are those who disapprove of Filipinos who choose to leave. I used to. Maybe this is a natural reaction of someone who was left behind, smiling for family pictures that get emptier with each succeeding year. Desertion, I called it. My country is a land that has perpetually fought for the freedom to be itself. Our heroes offered their lives in the struggle against the Spanish, the Japanese, the Americans. To pack up and deny that identity is tantamount to spitting on that sacrifice.

Or is it? I don't think so. Not anymore.

True, there is no denying this phenomenon, aided by the fact that what was once the other side of the world is now a 12-hour plane ride away. But this is a borderless world, where no individual can claim to be purely from where he is now. My mother is of Chinese descent, my father is a quarter Spanish, and I call myself a pure Filipino – a hybrid of sorts resulting from a combination of cultures.

Each square mile anywhere in the world is made up of people of different ethnicities, with national identities and individual personalities. Because of this, each square mile is already a microcosm of the world. In as much as this blessed spot that is England is the world, so is my neighborhood back home.

Seen this way, the Filipino Diaspora, or any sort of dispersal of populations, is not as ominous as so many claim. It must be understood. I come from a Third World country, one that is still trying mightily to get back on its feet after many years of dictatorship. But we shall make it, given more time. Especially now, when we have thousands of eager young minds who graduate from college every year. They have skills. They need jobs. We cannot absorb them all.

A borderless world presents a bigger opportunity, yet one that is not so much abandonment but an extension of identity. Even as we take, we give back. We are the 40,000 skilled nurses who support the United Kingdom's National Health Service. We are the quarter-of-a-million seafarers manning most of the world's commercial ships. We are your software engineers in Ireland, your construction workers in the Middle East, your doctors and caregivers in North America, and, your musical artists in London's West End.

Nationalism isn't bound by time or place. People from other nations migrate to create new nations, yet still remain essentially who they are. British society is itself an example of a multi-cultural nation, a melting pot of races, religions, arts and cultures. We are, indeed, in a borderless world!

Leaving sometimes isn't a matter of choice. It's coming back that is. The Hobbits of the shire traveled all over Middle-Earth, but they chose to come home, richer in every sense of the word. We call people like these balikbayans or the "returnees" – those who followed their dream, yet choose to return and share their mature talents and good fortune.

In a few years, I may take advantage of whatever opportunities that come my way. But I will come home. A borderless world doesn't preclude the idea of a home. I'm a Filipino, and I'll always be one. It isn't about geography; it isn't about boundaries. It's about giving back to the country that shaped me.

And that's going to be more important to me than seeing snow outside my window on a bright Christmas morning.

Mabuhay and thank you.
COMMENTS:

blah blah blah
Hey! This is my ChatBox! Please show some respect! Bashing and cursing is definitely NOT allowed here! OK?
the author
Thanks for dropping by at my blog! By the way, I am Mikhail "Mikmik" Olalo, 15 years old and still breathing since April 11, 1991. Dont forget that this is my blog. I can say anything I want so please respect all my opinions that I have posted. If you dont like my posts, layout, opinions, you can leave my site now. Be very careful, because I know your IP address. .The [x] button is always right there at the top right corner of your screen waiting to be pushed by bloghaters and blogbashers. If you like my site, then you are free to read all my posts. Please leave some marks like tags and comments before you leave my site. I would be very happy if you do. I'm sure it won't take a minute. Thank you.
If you want to know more about me, then let's chat thru YM. YM: mikhailolaloym




or e-mail me @:



mikhailolalo@yahoo.com

You can also visit my:
tunnels
past is past
January 2006
February 2006
March 2006
April 2006
May 2006
June 2006
July 2006
August 2006
September 2006
October 2006
November 2006
December 2006
January 2007
February 2007
April 2007
May 2007
June 2007
recent entries
2006 New Words
Feb 9 RATINGS
NA-insulto AKO!
MIYERKULES February 8, 2006 Attic Le Robe 14.6% ...
The Game Is On For The Celebrity Housemates!
Ang Cellphone at ang Bible
The Blog Virus
PBB Celebrity Edition (Mga Housemates DAW)
Clues on PBB Celebrity Housemates Revealed!
Para Sa'Yo MP3
inquiries
You can ask any question and I'll answer it right away! Please don't submit blank forms.
Ano ang tanong mo?


Q[61]:Did you make this layout yourself? Can you make me one?

Nope. I got this from www.blogskins.com! WOW! English spekeni!

Q[60]:honor student k b? anong place mo?

Noon, OO. Pero ngayong 4th year, HINDI na.. Nasa rank 18 na kasi ako ngayon.

Q[59]:palagay mo sino ako?

si ederlyn.

Q[58]:kapuso o kapamilya?

Siyempre! Kapamilya! Ampanget ng mga palabas sa GMA! Asian Treasures lang yata ang astig 'dun!

Q[57]:kailangan ba talaga ang NCAE??? kung hinde. bkt pa nila ito ginagawa. kung parang piigilan nila ang estudyante sa pagpili ng kurso??--sentimented

Walang kwentaaaa ang NCAE!!!! - yan lang ang masasabi ko.

Q[56]:nasubukan mo na bang jumebs sa school?

Muntik na noong elementary pa ako.. Bukas, susubukan ko.

Q[55]:what is your faith???

My faith is 15 years old. Thank you. LOL!

Q[54]: bilangin mo lahat ng links mo.. di ka ba nahihirapan magblog hop?

17,465,782.58 lahat. Minsan, nahihirapapan ako. NAPAKAHIRAP.

Q[53]: bakit ang laki ng ipin mo??? owner ba kau ng colgate???

Hindi Colgate! Close-up!

Q[52]:E nagka-girlfriend ka na ba?

Wala pa.. Sabi kasi ng magulang ko mag-aral muna.. Haaaaay.

Q[51]:kung babae ka, sino ang pipiliin mo maging crush? daniel radcliffe, channing tatum o chris pine?

Um.. Si Daniel Radcliffe siguro. Siya lang kasi kilala ko sa mga binanggit mo. Sino si Tatum at Pine?? 'Di naman yata yan sikat.

Q[50]: anong masasabi mo na nagfifit ang mukha mo kay ninoy aquino?

Ang swerte-swerte ni Ninoy! Siguro kung buhay pa siya, mamamatay siya sa tuwa!

Q[49]: ok ang sarap magtanong. haha.musta ka nman?haha.

Ok lang.. Homo sapiens pa rin. Himihinga pa. Tao pa. Buhay pa.

Q[48]: may girlfriend ka na ba? :)

Ala pa... :(

Q[47]:which came first the chicken or the egg?

Chicken kasi nang ginawa ng Diyos ang mundo, malalaki na ang mga nilalalang o creatures gaya ng tao, puno, kabayo atbp. Kaya chicken ang sagot ko diyan.

Q[46]:rate your kagwapuhan from one to ten.

um... 10? LOL! Biro lang... Kayo na humusga! Bawal negative ha!

Q[45]:ikaw.. magsusumbong ka ba kapag nireyp ka ni daniel smith (kung girl ka sakali)?

Kung ako? Siyempre... HINDI AKO MAGSUSUMBONG! Baka pa nga si Smith ang magsampa ng kaso sa 'kin! LOL! Biro lang.

Q[44]:san ung location ng school mo?

Digos City. Katabi lang ng Davao. Bakit? Dadalawin mo ako?

Q[43]:Najejebs ka at walang CR sa mall lahat out of order, ano na ang gagawin mo?

Ilalabas ko nalang sa brief ko. Ambaho no? Ala choice eh.

Q[42]:Mahal mo ba ako?

OO! Ako? Mahal mo rin ba ako?

Q[41]:ok lang bang tanungin kung wat year ka na and from what school ka?..tnx..

Um.. 4th year HS. Digos City National High School (DiCNHS). Bakit?